This is a post for everyone.  For current volunteers.  For former volunteers.  And for those of you wondering how to get involved with helping shelter animals and what it's really like out here.  We've volunteered at a lot of shelters and rescues and this post has insight from all of those experiences.  We hope it will be helpful to shelter volunteers, past, present, and future the world over.
But what we really want to talk about is volunteering at Austin Animal Center.
Austin Animal Center needs you and we've learned some secrets since launching our volunteer program there on how to need it right back.
1. Try Different Things, Find What You Love.
This is number one on our list because it's perhaps the most important.  The secret to loving what you do is finding what you love.  Dogs or cats?  Puppies?  Kittens?  Senior dogs?  Walking dogs?  Running with dogs?  Dog behavior?  Taking pictures of cute four-legged creatures (there's a photo team!)?  Playing matchmaker with adopters?  Fostering?  Do you want to be part of the community outreach program? While we're at it, who wants to submit a proposal to launch Austin's version of this surrender prevention awesomeness?
The point is, the first thing you try isn't always the one for you.  And that's okay!  When you find the right fit, you'll know it because far from being something you feel like you should do, you instead won't be able to keep yourself away!
2. Know Your Limits, Set Your Boundaries.
This means knowing how much time you can realistically give. Sometimes, once we find that passion, we go a little overboard and lead ourselves down the path towards burnout.  Burnout is really one of the saddest words there is because it means we've let something we love lose its joy.  What is that sweet spot where volunteering leaves you energized and excited to come back for more?  If you feel yourself crossing into obligation, don't be afraid to pull back a little.
We recommend starting with one shift a week and going from there.  For some of us, a consistent time is really helpful because it makes it a natural part of our schedule.  And maybe boring Tuesdays are suddenly way more awesome thanks to slobbery dog kisses! Once you've found the type of volunteering that you really love and figured out a schedule that works well for you, you're 99% there on the path towards total shelter volunteer bliss.
3. Ask Questions, Be Proactive.
Volunteering anywhere can sometimes be a little confusing as you first get your footing. Volunteering at a large, government run facility can be even more so.  How do you find the right opportunity?  Who is the contact?  Where the heck are the time tags stored?  How do I volunteer before or after the shelter's business hours?  And how in the world do I help answer questions for potential adopters when all I know for certain is the dog in 312 is super adorable and gives great wiggle butt?
For a general overview, we've created this handy blog post on what you can do to help shelter dogs. It has lots of Austin specific information and resources, kinda like get involved 101 class. As far as all those AAC specific logistical questions, ask your friendly volunteer coordinator!  You'll have a meeting with them following orientation and should come prepared with stuff you want to know.  If (when) more questions come up later, touch base and ask them!  You can also grab another volunteer in one of those bright yellow shirts or even email us at info@dogsoutloud.org and we'll point you in the right direction!  Once you're all registered and part of AAC's volunteer email group, check out the documents section there for lots of info including a flow chart with who to contact for what. No question is too big or too small.  Just ask!
4. Celebrate the Good Stuff.  There's a Lot of it.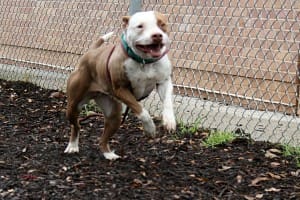 This is particularly important when we're dealing with our sentient friends on four legs who are depending on us to care for them and help them find their way home.
And guess what?  We're doing just that!  We are having amazing adoptions, beautiful volunteer moments, breakthroughs and huge improvements in behavior, wonderful medical recoveries, and all of the incredible everyday moments of canine, feline, and human joy.  Celebrate them.  Make it an event.  Life-saving, care giving, real connections, and every single experience that creates beauty and joy in this world is a big deal.  Shelter volunteering is rich with those moments.  Always seek solutions and opportunities for improvement, but never forget that we're surrounded by amazing moments every single day.
5. Be an Ally.  Create Community.
It's easy to see the animals when we're volunteering but sometimes it's harder to see the people. Camaraderie and a sense of teamwork can go a long way in making the shelter a warmer, more easily navigable place. See someone that could use a hand?  Offer to help!  Are you the one who needs a hand?  Ask for one!  Say hi to your fellow shelter volunteers and staff. Don't forget your smile. Remember when offering advice that we all have our own ways of doing things that work for us. Pair up with someone for a volunteer shift and walk some pups or cuddle some cats together.  It may seem like obvious advice but it's easy to get so caught up in our mission that we forget we're surrounded by allies.
6. Have Fun.  Be Silly.
This is one of many unofficial Dogs Out Loud mottos.  It earns us our fair share of side eyes and guess what? We don't care!  Having fun and being silly are some of the best things in life, people!!  Shelters are lands of dog slobber and poop and cat hair in your mouth and things that are ridiculous and hilarious and wonderful.
DOL deals specifically with large dogs working through behavior issues.  Obviously we need to keep our wits about us and be responsible and extra safe.  But that has absolutely zero impact on also keeping a sense of humor and having a great time.  Those things are critical.  We'd make them mandatory if we could.  Fun and silliness make the world a better place and they sure as heck make the shelter a better place!
Now that we've talked a bit about the how, let's look at the why…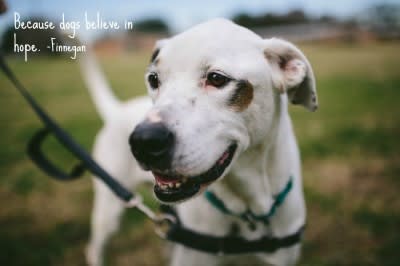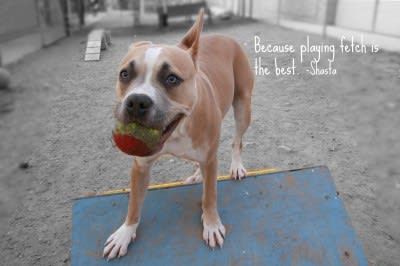 For these reasons, and so many more, we hope that you'll join us in making life better for the animals at your city shelter and helping them to find their way home.
Fill out your volunteer application and get started!
---
The Orange Tag in the Room
We debated about whether we should address this in the post, particularly when our primary goal is recruiting and motivating volunteers.  It's not our intention to take away from the incredible, life-saving work being done in Austin.  We've decided to include what follows because we think it's important that people understand this particular issue rather than discovering it when they start volunteering, getting overwhelmed, and leaving a place that they are very much needed, appreciated, and can have a meaningful impact.
If we could change just one thing about our city shelter, it would be the practice of orange tagging. Not the actual hanging of those orange tags but the reason and practices behind them. For many of us, the sight of them on a dog's kennel causes instant heartache. An orange tag is hung if a dog did not get out of its kennel the day before. Not once, for so much as to go potty, in at least a 24 hour period. Those of us familiar with the system know it typically signifies a span of time that's actually much longer than 24 hours depending on what time the break the previous day took place.
It's not okay. It contributes greatly to canine suffering, developing and escalating behavior problems, soiled kennels, and more. It impacts adoption rates. It drives volunteers away. It's overwhelming. It's heartbreaking. It needs to change. There is no paid staff position at AAC responsible for getting dogs out of their kennels. There should be one. Am/pm potty breaks are a critical humane care standard. It should be supplemented by volunteers for sure, but it needs to be staffed.
We've volunteered at shelters in the past where the same system, with kennel breaks falling solely on volunteers, was the norm.  We've also seen that process change and watched volunteer numbers and shelter morale skyrocket when a staff position was added.  We don't expect staff to do it alone, but nor should volunteers.  It's something that works much better when it's a team effort and also opens up a whole new wealth of information and experience for Animal Care staff when they begin to engage with dogs through walks, play, and enrichment. We're hoping for this same change at AAC.
The fact is, it hasn't happened yet and we have no reason beyond hope to believe it's coming soon. We could leave it out of this post but it's a reality that's not going to be left out of the volunteer experience. It also creates a vicious cycle. A perception occurs where it's either, get to the shelter and walk as many dogs as humanly possible for potty breaks or do nothing at all. Let's be honest. Some people enjoy marathon potty walking. A lot of us don't. Many of us are looking to spend quality time with just a few dogs. Maybe we even want to do something really special with just one dog. But when there's a perception that it's walkdogswalkdogswalkdogs or your time doesn't matter, a lot of volunteers choose to go elsewhere.
Your time does matter. It matters a lot. And when people are able to volunteer in a way that works for them, volunteer numbers increase. We all have different strengths and passions, even within the scope of shelter volunteering. And to be successful, sustainable, and love what we do, we need to follow those passions.
You can do that at AAC.
And the more of us who choose to do so, the greater the life-saving and quality of care impact is going to be.