This is a special holiday series for anyone who has ever sighed and said, "What do I do with this dog?" We want you to know that, whoever you are, wherever you are, you are not alone. Shoot, most trainers and dog behavior nerds end up in the field after finding themselves sharing their home with a dog whose behavior was way more than they'd bargained for.
In this five-part series, each of the five DOL directors will tell the stories of our naughty beasts, from chaos to today, in the hopes of not just sharing wisdom, but some courage, humor, and solidarity as well. We've introduced you to Sampson and Sedona. Now, we'd like you to meet a dog who commits fully to both his serious and silly sides, a medium mystery mix named Rufus who believes he's human…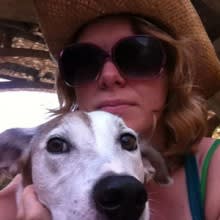 There were those of us who wondered if DOL director, Ariana, would actually write a naughty dog post about Rufus or if she'd instead write about "the one who got away." That one being long-term foster dog and naughty creature extraordinaire, Mustang Sally. Rufus, however, may sometimes be a quiet dog but he's not a dog who'll go unnoticed. Whether it's when he makes the decision to greet another dog and sticks his snout a bit too far up their back end for a bit too long, or his very intense feelings of love for everyone who comes over to the house (obviously, for the sole purpose of cuddling with him), or his simultaneously stoic and hilarious persona, Rufus has no problem requesting your undivided attention. This is his story…
---
Well, it always happens when you least expect it.
I had recently graduated college and was planning a year long trip to Australia. It was not an ideal time to fall in love with a dog. However, as fate would have it, that's exactly what happened. I was walking dogs at the small shelter down the road from my apartment (actually a friend's apartment where I was crashing) when I met him. His name was Rufus, he was skin and bones, had been a stray probably his whole 6 months of life, refused to make eye contact with me, and was the most serious puppy I had ever seen …. I asked if I could take him out for a walk.
It wasn't exactly love at first sight…. in fact, he didn't even look at me once the entire walk! He was much too interested in barking at every animal that came near (squirrel, dog, bird) and even tried to pee on my leg once. Yeah, not quite love at first sight but there was something about him and for some reason beyond common sense I filled out an adoption application.
Quick recap: living at someone else's apartment where dogs weren't exactly allowed, planning a trip to Australia in a few months, no idea what I was doing. I was extremely surprised when I received a phone call that I had been approved as an adopter.
Was I an ideal dog owner? No. Was he an easy dog at first? No. Did we make it work? Yes (with help from friends and family). There were a lot of things to work on when he first came home with me: The ear piercing screaming every time we got in a car, the rummaging through the garbage can for goodies that he thought he deserved, the jumping up and all over every person that came over to the house (which he still does), the humping and chewing of pillows and blankets, the obsession with the neighbor cats, the urge to pick a fight with any male dog that wasn't neutered, the fierce independence.
Some of these issues we have worked through 5 years later and some I have just learned to manage or put up with. A dog who didn't know how to interact with other dogs, how to make eye contact with a person, how to walk on a leash, or how to listen to anything I said eventually became an important part of my family. He is my father's best friend, my husband's gardening helper, and my cuddle buddy.
Rufus has been on the naughty list many times! But so have I. None of us are perfect, and just like I have accepted Rufus and his faults, he has learned to accept me and mine.
---
Rufus' lesson to us is the symbiotic relationship we share with our dogs and the different paths we all take in building that relationship.
---