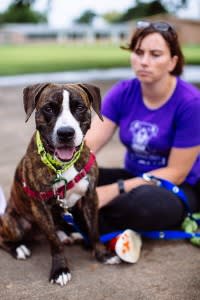 Say hello to our tender little low-rider, Vince! This sweet, sensitive boy is super affectionate, adorably amusing, and generates Cheshire cat-sized smiles wherever he goes. He also does the most hilarious little "booty dance" when you scratch his rump!
Vince walks like a dream on a leash and enjoys carrying a toy in his mouth while out and about. We think he is very house-trained and will be a good boy in a home. He knows "sit", and is currently working on "down" and "shake". He likes to play with squeaky toys, chew on bully sticks, and is learning to appreciate the finer things in life like soft, cuddly blankets and challenging puzzle toys.
Vince's soft nature sometimes leaves him feeling a bit shy and overwhelmed so he's working on building his confidence, learning that cars can be fun, and that finding that new experiences can be exciting and very rewarding. He has made an incredible amount of progress in just a couple of short weeks and we expect his training to continue to proceed quickly.
This bright and motivated little guy is really special and we know that his forever home is just around the corner.
Vince's smallish size makes him perfect for residences with weight restrictions so if you're interested in meeting him, email us at adopt@dogsoutloud.org to set up a meet and greet before he gets scooped up!