This adorable ray of sunshine is Helios! He is a bundle of puppy energy ready to take on the world.
At heart this boy is a social butterfly, but he didn't arrive at the shelter with his bubbly personality. Helios came to the shelter sorely lacking social skills and life experiences, yet he is seizing his chance and learning so much. This cutie is coming out of his shell and his personality is blooming.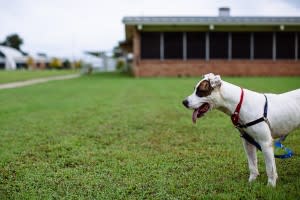 Helios will happily greet you at the kennel door now, and makes it very obvious he is ready to go out and explore the world. His eyes sparkle with enthusiasm, especially if treats are involved. This handsome guy will do anything for a yummy treat, and he isn't picky. His love for treats and praise, in addition to his keen brain make him a wonderful learning companion.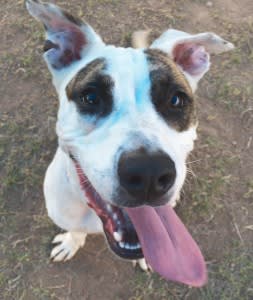 But Helios is still a puppy and has a penchant for mischief.
He has been practicing his impulse control and leash skills. Helios continues to impress his trainers with his quick mind and puppy-like goofiness.
Helios loves to play with puzzle games, and he even enjoys carrying a squeaky toy while out on a walk… which is pretty darn adorable. So if you're looking for a happy-go-lucky dude to bring some sunshine to your life, Helios is your man! For more information email us at adopt@dogsoutloud.org or head on down to kennel 208 at Austin Animal Center to meet him!