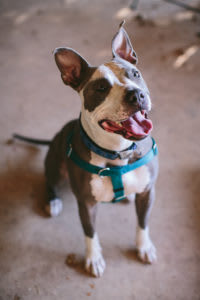 Like a Fennec Fox! This adorable dog with the magical ears has come a long way to get where he is today.
Fennec is a lover of humans, cuddles, play time, and zoomies. He somehow manages to combine gorgeous athleticism with endearing awkwardness. He loves showing off his moves by running through his own personal agility course with ease and style. He'll also soar through the air in a game of chase but toss him a ball and he's like that infamous video of a retriever missing the treat catch in hilarious slow motion.
Awkward catching skills or no, he's quite a smartypants who learns quickly and enjoys showing off his puzzle toy solving skills. Fennec is now putting those smarts to work as he kicks some serious tushy on his training goals. Whether he's learning cute new tricks like standing on a bucket or backing up on command, this guy likes engaging activities that challenge his brain and win him lots of affection and treats. He's also building himself quite a fan club along the way!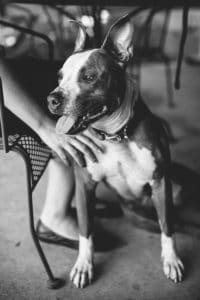 What Fennec wants most, though, is a forever home with that special someone who understands him. He has short bursts of energy but little stamina so he's not looking to be anyone's running buddy. He finds the excitement of travel to be a bit much, so he doesn't want to tag along in the car and run errands or go on road trips. He hasn't had good experiences with other animals and doesn't know how to interact with them, so he won't dig the dog park or doggie play date scene, and he needs to be an only pet. So what does he bring to the table? Pure joy. Generous affection. Velvety softness. Constant companionship. Comic relief. Undying devotion. Unconditional love. And lots of all of it.
Fen is a happy homebody who wants to love his person, run his agility course or nature watch in the backyard, and then snuggle up on the sofa and watch movies in the air conditioning. Fennec has been saved twice from shelter euthanasia, no easy feat for a sensitive bully breed boy. He's hoping his luck holds and takes him all the way home to stay this time!
*Want to see his adorable personality in action? Check out Fennec's video!
To learn more about Fennec or set up a time to meet him, email adopt@dogsoutloud.org!