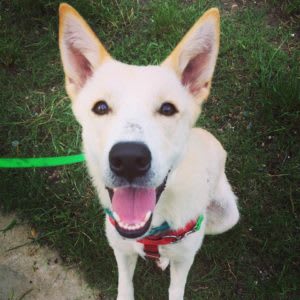 The ridiculous cuteness. The inquisitive smarts. The affectionate charm. Little Miss Elsa is a spunky young pup who is on her way to becoming a gorgeous and one of a kind adult dog.
Elsa is energetic and highly intelligent. She already has lots of great skills and has taken to training with a sharp wit and a great sense of fun. She'd be an excellent running or hiking buddy but she's also a lovebug who'd like to curl up next to her very own human on the couch. She also happens to enjoy sharing her home with fellow canine companions.
This playful and loving girl has charmed our socks off and we think you'll love her too!
Want to set up a date to meet Elsa or learn more about her? Email adopt@dogsoutloud.org!