Say hello to Dino! This affectionate and energetic boy is charismatic, bright, and eager-to-please and brightens any room with his genuine enthusiasm for life. He was one of our favorites when he lived at the shelter and frequently attended Dogs Out Loud group class, volunteer trainings, and adoption events. He was also one of Austin Animal Center's playgroup rock stars and often served as a their go-to dog to help socialize new pups to this important shelter enrichment activity.
Dino is currently staying with a foster and is proving to be quite well-behaved in a home. He is non-destructive, house-trained, and snuggly. He loves playing with other dogs, enjoys a good game of tug with his favorite person, fancies toys, food puzzles and chewies, and will happily cuddle up and keep you warm at night.He also likes water and will happily play fetch or splash around to cool off. A home with a pool or close proximity to a lake would be a fantastic bonus for him!
This sweet pooch is about 3 1/2 years old, weighs around 75 pounds, and comes with a loaner crate, dog bed, food, toys, and enrichment items. All he needs is for his forever home to find him!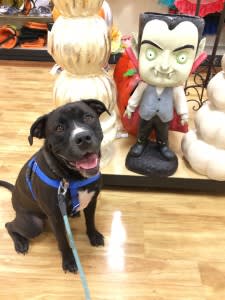 If you are interested in finding out more about this special and loyal pup, email us at adopt@dogsoutloud.org to set up a meet and greet!