How does stress affect a dog's threshold?
How does stacking up these stressors trigger reactive outbursts (barking, mouthing, humping, leashing biting, etc.)?
With fearful dogs, "threshold" is often primarily an issue of
physical space.
With a Whoa Doggie, "threshold" may be
psychological, emotional or sensory.
How Do Stressors Stack Up to Affect Threshold?
Stressor + Stressor + Stressor = 🔥🔥🔥
Example
Why during off leash play does a dog come running over to you, jump on you and start humping or mouthing?
(An already-excited dog who then engages in vigorous play may go over threshold if his energy level goes too high.)
Example
Why might a Whoa Doggie leash bite as she comes out of the kennel?
(Trapped in a kennel for long amount of time, physiological needs not met, loud noises, harsh/strange smells, unfamiliar/uncomfortable environment, dogs and people passing by at close range, barking dogs all around, loneliness, too much/lack of stimulation, etc. etc. etc.).

This is a dog who, if we don't get her to engage with us before leaving the kennel, we may struggle to have success with her out of the kennel.
Example
For dogs who are sensitive to touch - why does touch cause mouthiness?
(Dog may be inexperienced with touch, not acclimated, have pain, already be worried about something else, too much tension.)
In each of these situations:
Toys are tools. If we are to have success with this population of dogs, treats cannot be the only tool in our arsenal.
It is important to intermix periods of aerobic activity with periods of calm, engagement, and focus to keep the dog under threshold, or at least help her get back there. Play training is huge.
It is important to be on your toes and ready to redirect the dog's focus to an activity that you do want her to do.
"… all living things repeat behaviors that are rewarding, and those behaviors that aren't rewarded extinguish (go away) …"

(Pat Miller, "We're Positive")
Approaches
Sometimes we need to help them let off some steam to get them under threshold so they can think and learn.
But other times that work needs to be done in the moment when you think they're least trainable.
For each dog, the key is to slow down, see the dog in front of you, figure out what that individual needs.
Constantly be asking/reassessing "how is this experience for this dog at this moment?." Don't push the dog into an unsafe state.
Consistency is key to building healthy relationships quickly. The same rules need to apply from handler to handler.
Moments, Not Minutes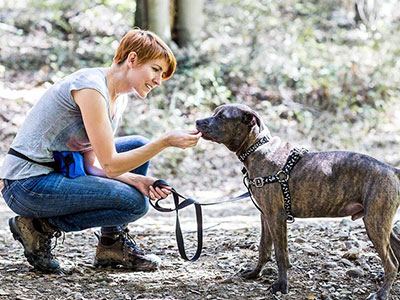 Keep sessions short and end on a positive note, even if it wasn't mind blowing.
Take advantage of teachable moments; turn a potty break into a thinking walk.
Be neutral.
Know when to let the dog set the pace, and know when to take it up a notch.
Allow the dog some autonomy and freedom, when appropriate. Once a dog realizes he has a choice, he may be willing to work with you.
Focus and Engagement
The work we will do helps the dogs learn to settle with us and on their own and to focus/engage with humans.
A focused, engaged dog makes our time with them more enjoyable. This is the dog an adopter wants.
Ultimately, focus and settle games teach the dog important life skills they need to get adopted, and ensure the relationship with the adopter is a success and lifelong.
Functional Rewards
A "functional reward" is whatever the dog decides is rewarding
at this moment.
"It is always the dog who decides what
the Functional Reward is."

(Grisha Stewart, empoweredanimals.com)
Premack Principle
The Premack Principle states that you can use a high probability behavior to reinforce a low probability behavior.
("If you eat your vegetables, you can have dessert.")
Toys are Tools
Especially with this subset of shelter dogs, toys are not a frivolity or just something to leave a dog alone with. Play training and play time are as important for shelter dogs as potty breaks.
Toys are handy for:
Redirecting mouthy dogs
Distracting shy or reactive dogs
Building a relationship
Changing a moment
Rewarding a success
Salvaging a failure
Teaching important skills
Easing stress
Toy play is one of the first things to go when a dog is stressed and over threshold. So whether a dog will play with toys is often a good barometer for his stress level.
The goal is to bring the dog's stress level down to the point that his physiological and safety needs are met. After that, his willingness to play will often emerge.